Extraordinary experiences, designed
Just for you
We would love to show you the real Morocco!  Holiday Morocco Tours offer private, customizable tours to suit your available time and interests.  Morocco is an amazing and diverse country with so much to offer, from the majestic mountains and seasides, stunning Imperial cities, and fascinating working Medinas (the ancient walled section of the cities), to the Erg Chebbi desert and dunes – and more!
What makes Desert Morocco Luxury so very special?
My brother and I have nearly a decade of combined experience providing custom morocco tours from uk.  Because we own and run Holiday Morocco Tours, we genuinely care about your Moroccan experience and will make it the best it can be!  We grew up in a Nomad family living in the desert where our family tended camels, donkeys, sheep and goats. At about age 9 we were sent to school in a small village.  We are passionate and excited to share our knowledge and expertise about Morocco with you. Your holiday and satisfaction are our priorities!
We are happy to customize your holiday to fit your needs, so please do not hesitate to contact us with any questions or suggestions.  We do our very best to provide you the best service to make your holiday an incredible experience you will never forget! We look forward to hearing from you and we are at your service.
Check out our reviews on tripadvisor.com!

1. Get Connected with
the most knowledgeable travel specialists for your vacation.
Go beyond
your imagination with unique experiences recommended by experts.
Experience
the wonder of an exceptional itinerary crafted just for you.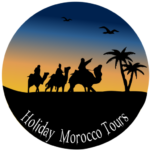 IMPERIAL CITIES TOURS & HOLIDAYS