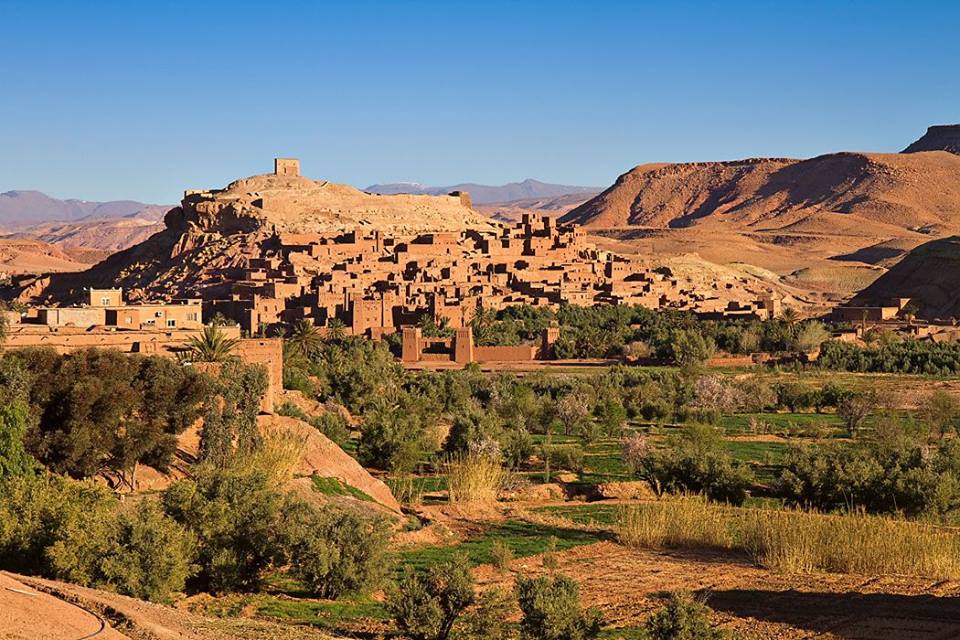 aitbenhaddou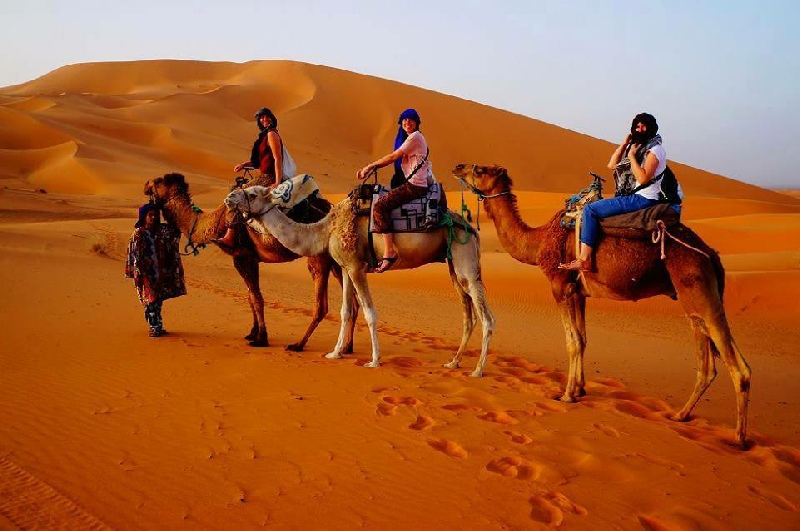 camel-trek-merzouga-desert

kasbah-ait-ben-haddou-Morocco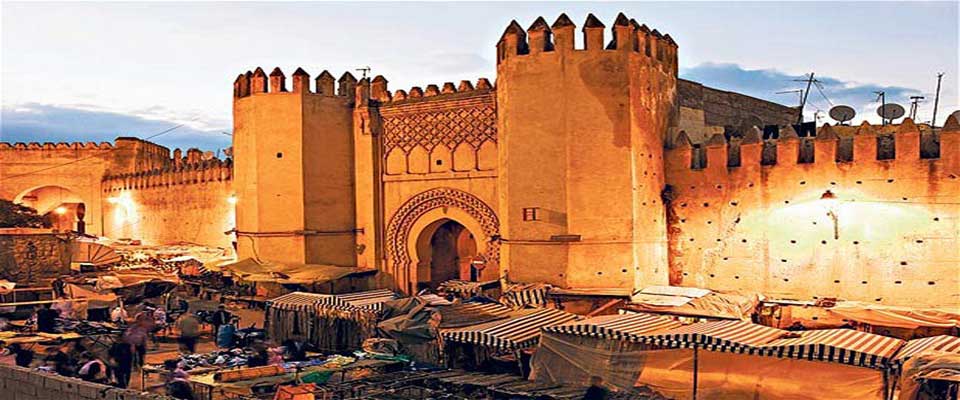 fes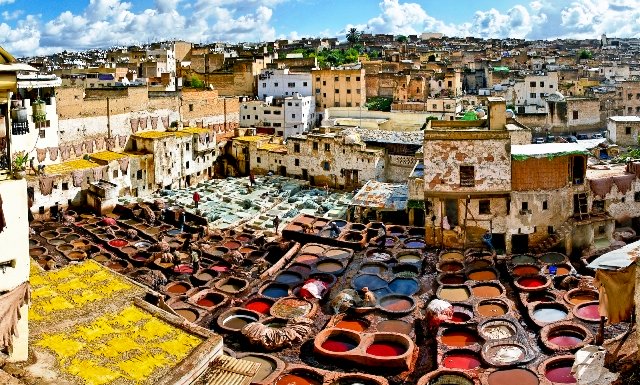 fes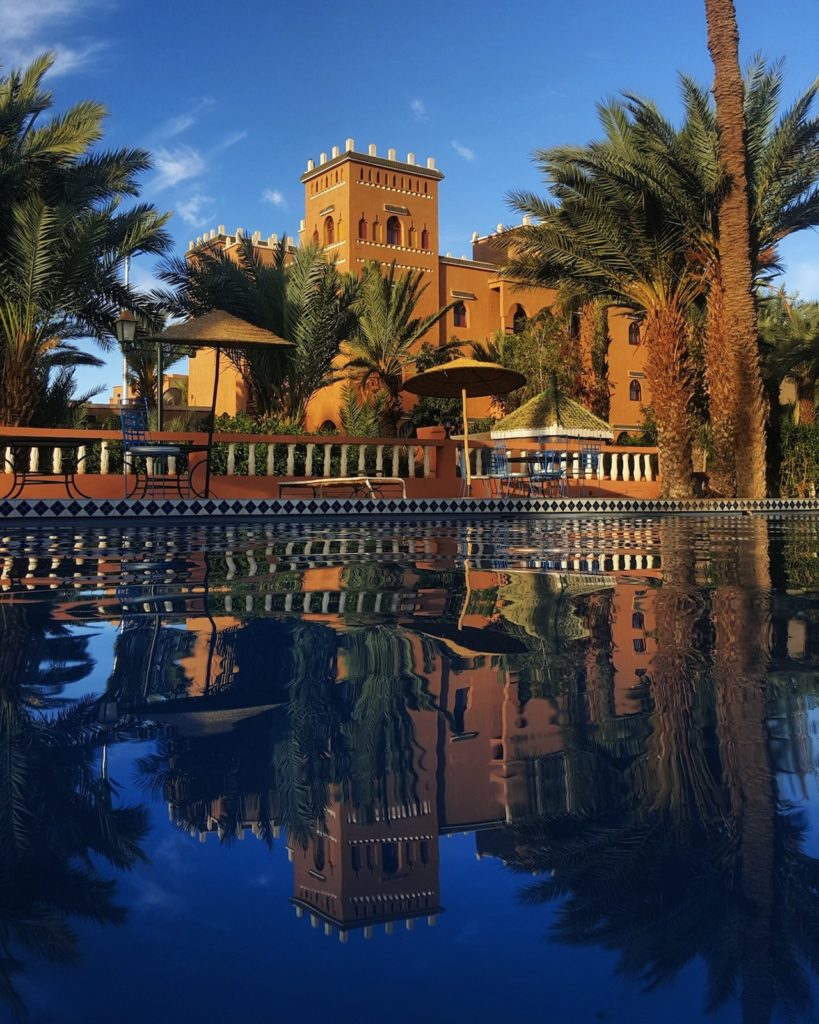 ouarzazate-taourirt-kasbah-circuit-marrakech-expedition-4x4(1)
DAY 1 : FEZ:
The first day of 6 Days Fez Marrakech Merzouga tour trip, will start by driving you from the Airport to a hotel in Fez, where we will spend the night in. After having a rest, you are about to explore the interesting and famous places of the religious capital city of Morocco. Fez was established by Idris the first in the 12th century, and it was considered for years to be the cultural, and the Artisan capital of Morocco, and one of the imperial cities, which focus on Crafts and History, along with its largest Medina in the Arab world. We will visit, Madrasas, The souk (stunning with the variety and amount of the spices), The oldest university in the world « The Quaraouiyine », Mosques, Plazas, Andalusians and Potters neighborhood, Palaces and Museums.
DAY 2: FEZ – MERZOUGA :
In our second day of 6 Days Fez Marrakech Merzouga tour, and after taking your breakfast, we will drive toward Merzouga. Along the road, we will pass by the Middle Atlas Mountains, Ifran « The Switzerland of Morocco », The cedar forests of Azrou, The High Atlas Mountains, Errachidia (you will notice big palm trees and green oasis ideal for growing different kinds of fruits and vegetables), Erfoud (which is the economic capital of Tafilalet, and famous for its fossils), and in the Moroccan charming Sahara Desert at Merzouga, where we will have dinner and spend a night there.
DAY 3: MERZOUGA :
We will spend our third day of 6 Days Fez Marrakech Merzouga tour, at Erg Chebbi Golden Dunes, where we will visit Khamlia town, see small villages and the inhabited houses far from the population, spend the evening with a nomad family, you will notice how kind and simple they are, and before getting dark, we will ride the camels toward, the desert camp, to spend a night in the nomad yurts.
DAY 4: MERZOUGA – TODRA GORGES – DADES VALLEY – OUARZAZATE :
After having your breakfast, we will drive through Rissani, Old Sijilmassa (the center sourcing of ancient caravans of the Sahara), Tinghir Oasis( among the amazing places in Morocco), Todra river (stunning Gorges), passing by the road of thousand Kasbahs, to Ouarzazate to visit Taourirt Kasbah, and spend a night there. Ouarzazate, is one of the interesting and important cities of southern Morocco, because of its beauty, and the number of Hollywood films filmed at like The Mummy, Gladiator, Troy, and many.
DAY 5: OUARZAZATE – AIT BENHADDOU -MARRAKECH :
After having breakfast, we will visit two interesting and famous Kasbahs. First, Ait Ben Haddou Kasbah, a Unesco World Heritage site, and a setting for many Hollywood films, and The ancient Pasha Glaoui « Telouet » Kasbah. We will spend a night in a riad at Marrakesh, after passing by the High Atlas Mountains, and Tizi-N-Tichka Mountain pass.
DAY 6: MARRAKECH CITY TOUR:
We will have a ride at Marrakech city, which was established in the 11th century by the Almoravids and Sahara Nomads, called the « Red City », because of the color of its walls, and it was said that it was inhabited by a Tribe on the other side of the Atlas.Also known for its large supplies of Dates, born palm, and bones. We will visit, Majorelle Gardens, souks, Menara, The Saadian Tombs, The Koutoubia, The Kabah, and the Bahia Palace. It will be a great journey, where we will walk through Jemaa EL Fna square, to see Jugglers, Dancers, Merchants, storytellers, snake charmers, and Artisans.We will drive you to the Airport as an end to our 6 Days Fez Marrakech Merzouga tour.
The Price per person(standard)
N° Days
N° Person

2

3

4

5

6

6Days

5Nights

Price

725€

590€

500€

460€

425€
NB: There is a 30% reduction for children under 12 years old
whilst we do not charge for children under 5 years
6 Days Fez Marrakech Merzouga tour INCLUDE :
Tour in 4×4 vehicle/minibus with A/C
Fuel
Driver-Guide
Hotel overnight stays (breakfast & dinner included)
1 night in the desert camp
Camel ride
Lunches
NOT INCLUDED :
NOTE: If this tour we proposed to you does not match what you're looking for, contact us , and we will prepare a trip based on your needs and requirements.